WHO WE ARE
CorVitals has been the leader in the arrhythmia analysis business for over 25 years and at the forefront of the evolving devices since 1987. Now, CorVitals has taken the lead with the introduction of  its service MCT (Mobile Cardiac Telemetry).
Replacing the traditional cumbersome holter with a unobtrusive wearable patch, instead of waiting for weeks for ECG analysis results, cardiac events can be monitored and responded to in real-time and full analytics provided immediately at the end of the patient monitoring period.
MCT – MOBILE CARDIAC TELEMETRY
Corvitals MCT (Mobile Cardiac Telemetry) solution and service replaces the holter with an unobtrusive wearable patch (FDA approved). No more waiting weeks for ECG results, cardiac events are monitored/responded in real-time 24/7  by our highly trained analysts and full medical analytics are provided to the prescribing  physician immediately at the end of the patient monitoring period
OUR WEARABLE BIO-SENSOR
Our wearable bio-sensor continuously monitors ECG in real time. Never before has a small elegant device provided so much valuable cardiac information to healthcare professionals. The lightweight and comfortable design ensures compliance so patients can be monitored around the clock whilst undertaking their daily routines. Data is streamed to a provided mobile device that sends the data directly to the cloud enabling 24/7 care by our team of analysts.
The CV Strip™ technology brings a new level of precision and compliance to wearable ambulatory monitors.
MCT – MOBILE CARDIAC TELEMETRY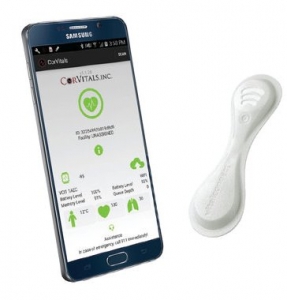 CV STRIP
The small size and unobtrusive nature of  our device provides a much higher level of patient engagement and compliance. This results in a higher diagnostic yield for physicians.

1
Long lasting battery: 96 hours (4 days)
3
Low profile, flexible and water resistant
5
Skin-friendly hydrocolloid adhesive
6
Easy to use – one button interface
7
Secure and reliable real time communication
Get in Touch, Let's Get You Monitored!